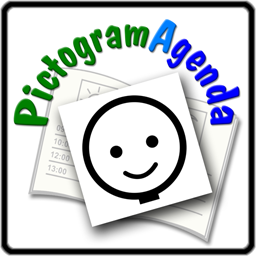 PictogramAgenda è una applicazione informatica che facilita la generazione ed uso di agende visive.

Versión en español

English version

Nederlandse

Français

Deutsche

Italiano
Traduzione Italiana - Ermanno Iencinella - www.cloudforsoho.com
Aggiornamento gennaio 2021
PictogramAgenda è stata completamente riprogrammata e il suo sito web ufficiale è ora:
Il testo seguente è obsoleto ed è solo per la cronologia:
Cos'è una Agenda Visiva?
Le agende visive sono un eccellente strumento di appoggio nel processo di apprendimento per alcune persone che soffrono di certi disturbi dello sviluppo, come Disturbi Pervasivi dello Sviluppo (DPS).
Queste persone sono di solito eccellenti pensatori visivi, cioè propensi a capire meglio e conservare informazioni presentate visivamente.
Le agende visive si basano sulla presentazione sequenziale di una serie di operazioni, in modalità chiara e semplificata, usando normalmente pittogrammi che permetto di agevolare la rappresentazione schematica senza ulteriori informazioni inutili.
Le agende visive aiutano le persone a capire queste situazioni ed a sapere che cosa ci si aspetta da loro, riducendo così l'ansia che genera il nuovo ed inaspettato. Con le agende visive i soggetti sono aiutati ad anticipare i vari eventi che accadranno. L'uso di tali programmi contribuisce a dare un ordine al loro mondo e migliorare gli aspetti del loro benessere emotivo.
Cos'è
PictogramAgenda?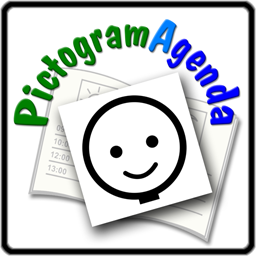 PictogramAgenda è una applicazione informatica che facilita la generazione ed uso di agende visive su terminali (smartphones o tablet) basati sul sistema operativo Android.
PictogramAgenda permette di creare ed ordinare una sequenza di immagini (massimo 12) che formeranno la agenda visiva.
La schermata dell'applicazione è divisa in tre parti: nella parte superiore compaiono le immagini caricate in maniera ordinata e numerate per rappresentare chiaramente l'ordine dei compiti elencati. Nella parte centrale dello schermo si premerà ogni volta che si desidera passare al prossimo compito, mostrando l'attività corrente in primo piano aumentando le dimensioni dell'immagine o il relativo pittogramma. Le immagini del lavoro già fatto verranno rappresentate nel fondo dello schermo, di piccole dimensioni, come un promemoria dei compiti svolti.
The application includes some sample pictograms with usual situations of daily life of children (breakfast, go to school, etc.). These images are taken from ARASAAC, which is the Aragonese Website of Augmentative and Alternative Communication, where you can find extensive catalogs of pictograms, among other interesting resources. Their web address is:
http://catedu.es/arasaac/catalogos.php
[ Pictogramas by: Sergio Palao - Source: ARASAAC (http://catedu.es/arasaac/) - License: CC (BY-NC-SA) ]
Elenco delle principali caratteristiche:
Permette di aggiungere fino a 12 pittogrammi caricandoli dalla libreria campione incorporata o di caricare una immagine memorizzata sul dispositivo supportata da Android. +++ Opzione pittogrammi scaricati direttamente dal sito web dell'ARASAAC.
In qualsiasi momento è possibile modificare l'ordine delle attività rimanenti semplicemente trascinando l'icona nella nuova posizione.
Supporta orientamento verticale ed orizzontale.
Permette di sbarrare i pittogrammi, per sottolineare il fatto che non è un compito da svolgere.
E' possibile se necessario, tornare al pittogramma precedente e tornare allo stato iniziale di tutte le attività in corso.
Salvare e caricare le agende generate per un uso successivo. Viene creata sulla scheda SD del dispositivo la cartella "PictogramAgenda"
I messaggi ed il testo della domanda possono essere visualizzati in: inglese, spagnolo, olandese, francese, tedesco, danese, italiano
TEXT (opzione per visualizzare i titoli dei pittogrammi)
SOUND (possibilità di leggere i titoli dei pittogrammi con la funzionalità 'Sintesi Vocale' di Android)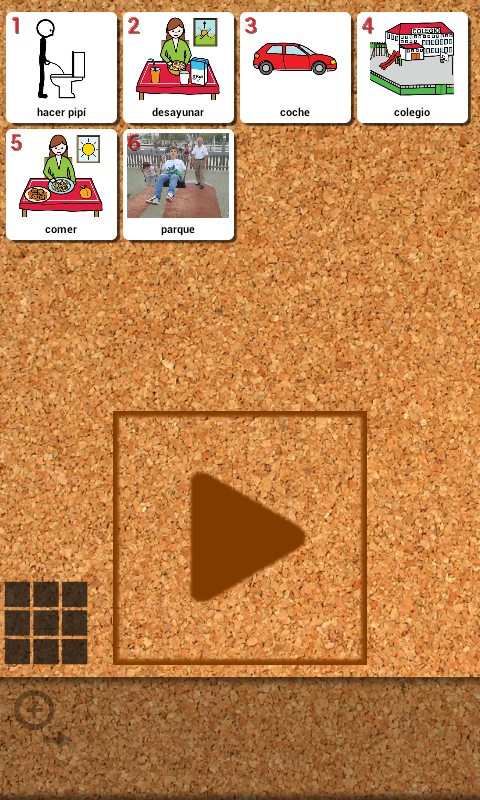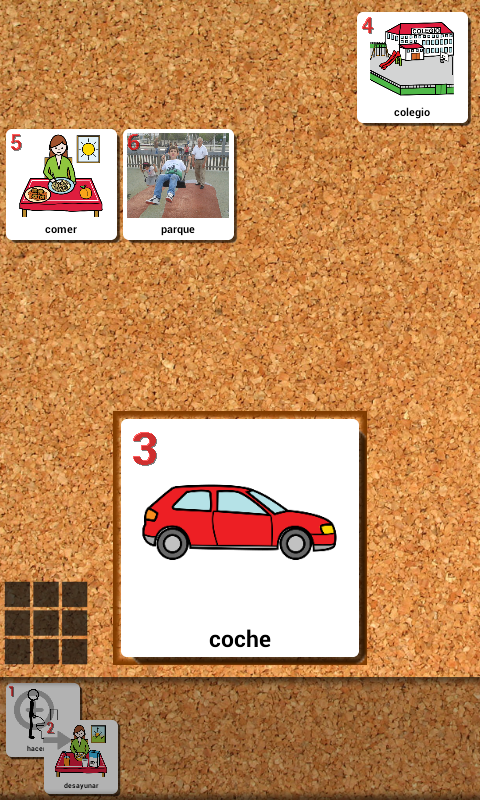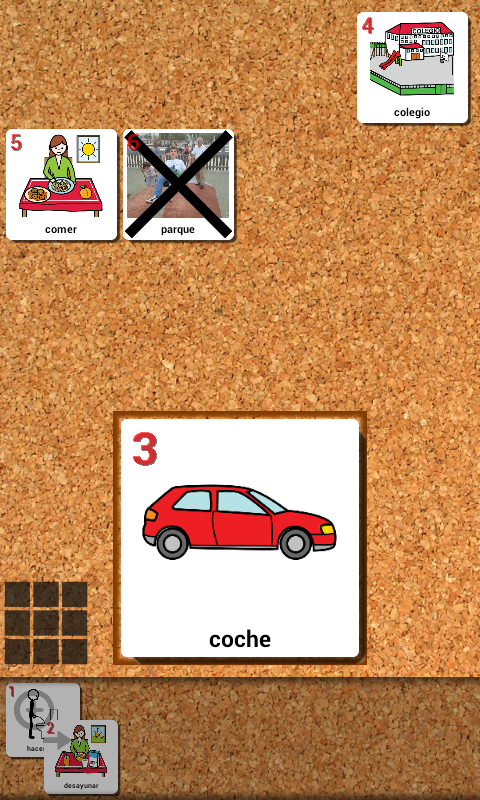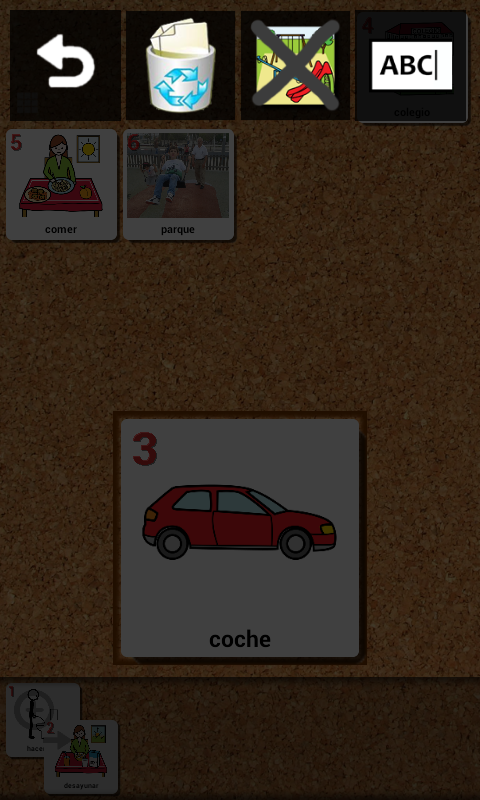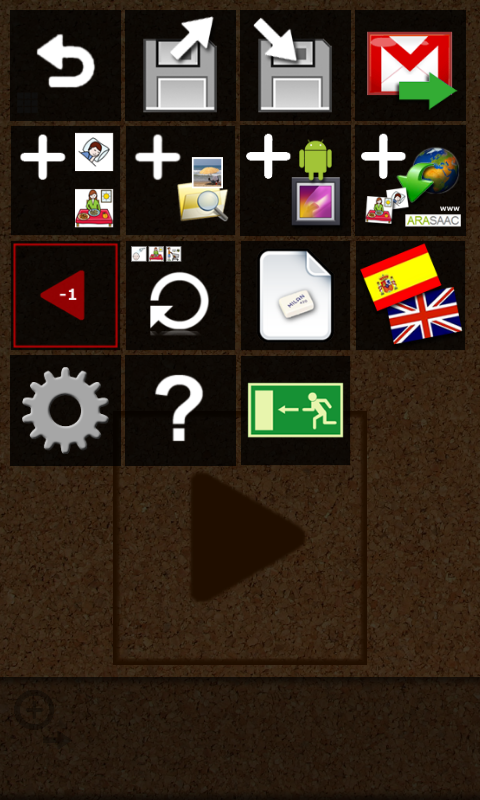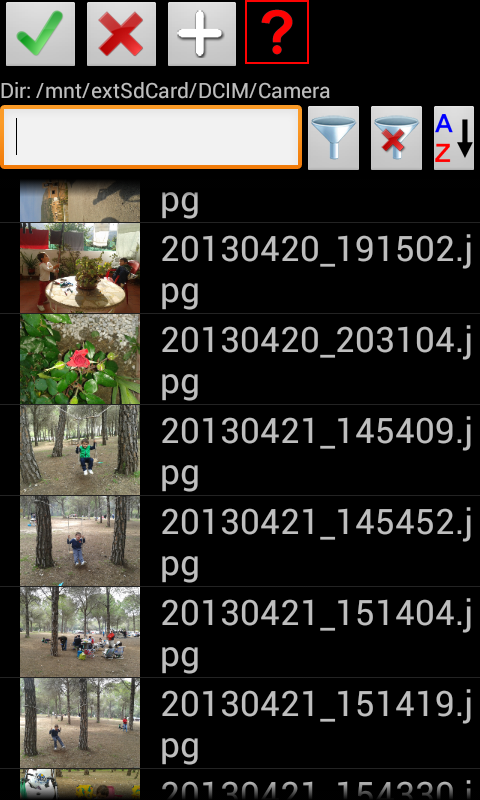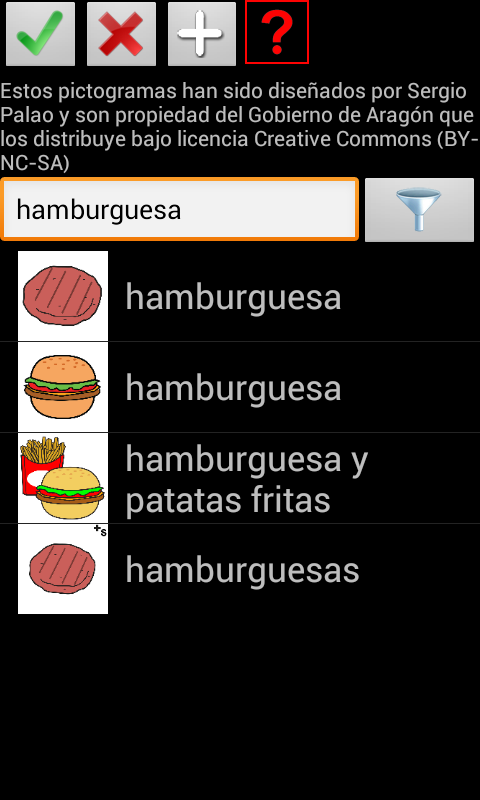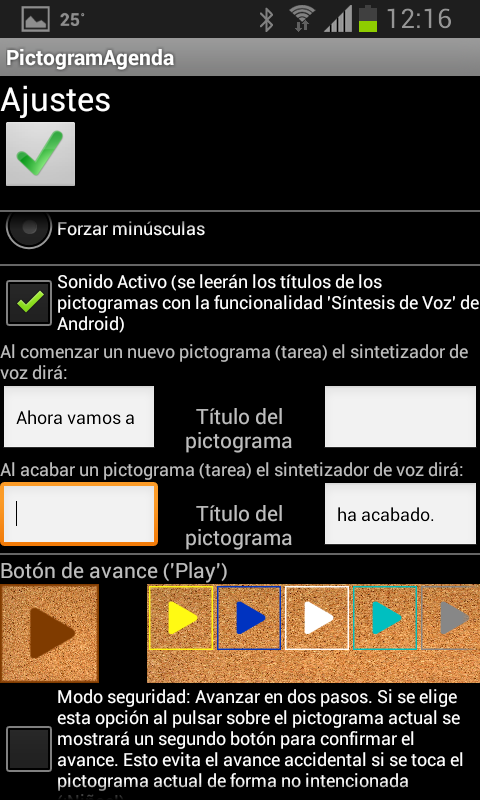 Version History
Version 2.3 (11/12/2017):
- Bug fixed: Some pictures were not correctly oriented on some devices.
Version 2.2 (04/04/2017):
- Some bugs fixed
Version 2.1.3 (02/06/2016):
- Fixed bug: sound error detected on devices running Android 5.0 or higher.
Version 2.1.2 (06/04/2015):
- Translation into Italian.
Version 2.1.1 (03/01/2015):
- Fixed sound error on some devices.
Version 2.1 (17/12/2014):
- ARASAAC search improved, option to delete agendas and some bugs fixed.
Version 2.0.1 (09/10/2013):
- Translation into Danish
Version 2.0 (30/09/2013):
>>> There are significant changes and a lot of improvements since version 2.0:
* NEW FILE FORMAT: Initially agenda files were simple text files containing only references to the location of the images on the device. Since version 2.0 agendas are files with ". pictogramagenda" extension. It is a file format (compressed) which contains all the images that form the agenda. This makes agendas be portable. Now it is possible to copy agendas to other devices, send agendas by email, publish agendas on the web, etc..
- TEXT (show titles of the pictograms)
- SOUND (titles of the pictograms are read with android 'Text to Speech' functionality)
- New Option to send the current agenda by "email" (using any email application installed in user's terminal).
- New option to add images from any "Image Browser" installed in user's terminal (eg Picture Gallery).
- Preview images in the lists when browsing device or ARASAAC.
- The list of saved agendas is sorted alphabetically.
- Autosave current agenda on finish. Autoload on startup.
- Some bugs fixed.
* Note to developers: If you are planning to make an export utility from your application to PictogramAgenda format do not hesitate to contact me. I will give you documentation about file format.
-
PictoSelector
already has option to export pictosheets to PictogramAgenda.
Version 1.4.1 (15/03/2013):
- Some bugs fixed.
Version 1.4 (14/03/2013):
* Settings:
- Background Image
- Forward button ("Play")
- Safety mode: Play in two steps. If you choose this option, when touching current pictogram a second button is shown to confirm forward action. This avoids accidental progress if the current pictogram is touched unintentionally (children!)
Version 1.3.1 (05/12/2012):
- French translation.
Version 1.3 (13/11/2012):
- Option to directly download pictograms from ARASAAC. --- These pictograms have been designed by Sergio Palao and are property of the Government of Aragon which distributes under Creative Commons (BY-NC-SA).
- Alphabetical sorting of directories for easy searching.
Version 1.2 (31/10/2012):
- Ability to add multiple pictograms at once without leaving the selection screen.
- Ability to filter by text to find images in folders.
Version 1.1 (09/10/2012):
- Some bugs fixed.
- Some visual improvements.
- Dutch translation.
Version 1.0.1 (09/27/2012):
- Fixed crash when starting on Android versions 4.0 or higher.
Version 1.0 (19/09/2012):
- Initial release.
Download
The app is available for free on Google Play:

Licenza / Condizioni di utilizzo:
PictogramAgenda è un'applicazione freeware creata da Lorenzo Moreno.
Chiunque può utilizzarla gratuitamente.
L'uso commerciale di questa non è permesso.
L'applicazione è fornita "com'è", senza garanzia o responsabilità di alcun tipo.
Thanks to:
- Martijn van der Kooij - https://twitter.com/Gabberkooij (Dutch translation)
- Xavier 83li90, Houda Zekri (French translation)
- ARASAAC - http://www.arasaac.org (Pictograms and API for getting them)
- Rubén Velasco - http://www.comunicadorcpa.com (Helps with code for connecting ARASAAC API)
- Sergey Tarasevich - https://github.com/nostra13/Android-Universal-Image-Loader - Using Universal Image Loader (c) 2011-2013, Sergey Tarasevich
- Petra Bohland (German translation)
- Alexander Riis, Kasper Lorentzen (Translation into Danish)
- Ermanno Iencinella - www.cloudforsoho.com (Italian translation)
---